Great Room Interior Design In Aurora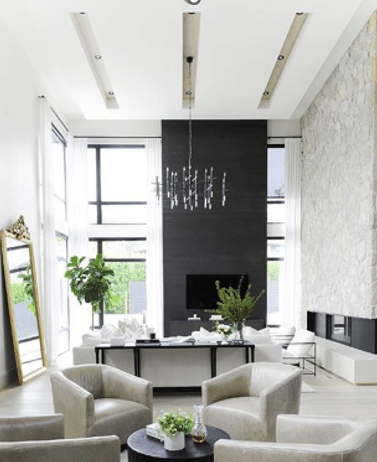 What is a great room? Any room can be great, but a great room is a room inside a house that combines the roles of several more traditional rooms (e.g. the family room, the living room, the study, etc.) into one space. Great rooms typically have raised ceilings and tall windows and are usually placed at or near the center of the home to function as a gathering space. Great rooms can be difficult to design because they are big spaces and serve multiple purposes. They need not only to be attractive and cozy but also functional to serve each purpose. The two biggest challenges when decorating a Great Room is making a big space look cozy and inviting and dressing tall windows without losing the beauty of the window.
If you feel you need some help, Peacock & Owl offers a variety of interior design packages to clients in Aurora, Vaughan, and Richmond Hill, which start at $675. Call us at (416) 986-7615 to discuss your project or Book A Discovery Call online and we'll help you choose the package that works for you.